Anyone who has ever practiced bodybuilding has surely heard about protein powders, which are undoubtedly the most popular supplement out of them all. Protein is the main component your body uses when it comes to building muscle which is why it is very important to consume enough of it during the day.
Now the perfect scenario would have you obtain all of your protein from real food, but we all know this isn't always possible which is where products such as MuscleTech Phase 8 come into play. There are many different protein supplements on the market and this can cause confusion when one need only choose one, but hopefully this review will help you with that.
Phase 8 by Muscletech Protein Benefits
Before I get on with the actual product let me first introduce myself: I have been training for close to 7 years now, and during these years have learned not just about training but also about nutrition and supplementation. It is thanks to this knowledge and experience that I am able to write these posts and share this information with you, so make sure you give it a good read. Now my personal experiences with this product may vary from yours, but it should mostly be similar. Let's get started…
The first thing I want to mention is why MuscleTech Phase8 is named as it is. The "8" in its name comes from the fact that this particular powder provides its users with protein for up to 8 hours, making it a very slow-digesting product. This makes it ideal for use before bedtime as it will cover you through the night, but it can also be used at other times as well.
Now not every protein source is of the same quality, and not every protein powder uses the same protein sources, so let's see what exactly is contained in this particular product:
Whey Protein Isolate
Whey Protein Concentrat
Hydrolyzed Whey Protein Isolate
Milk Protein Concentrate
Calcium Caseinate
Micellar Casein
If you've ever done any research on protein sources then you will surely have recognized some (if not all) of these names as very high-quality sources. Unlike many other products MuscleTech Phase 8 actually uses a blend composed of many different sources which is why it can provide protein over such a long duration. Not only does this product provide a very high-quality source of protein, but it also contains taurine, glycine, papain, and amylase which provide various benefits to the user.
Let us talk a little bit about what this powder actually gives you per scoop. People on a diet will be glad to know that this product contains mostly protein with very little carbs and fats. To be exact, it provides the following per scoop (each scoop weighs 42 grams):
26 grams of protein
2 grams of fat
7 grams of carbs
154 calories
The Pros
4.6 grams of BCAAs in every serving
Extended release formula
Fantastic taste
Low fat
No sugar
Added glutamine
The Cons
High sodium count
Slightly high calorie count
7 grams of carbohydrates per serving
While ideal as it is for people on a diet, people who are looking to bulk up would do well to supplement their shakes using a carbohydrate source such as oats, for example. Adding oats to shakes is a very common practice in the bodybuilding world, one which I myself make use of a lot; give it a go if you've never tried it before!
Muscletech is one of the leading companies when it comes to bodybuilding supplements, and they understand that not everyone has the same taste. This is why they provide MuscleTech Phase 8 Protein in a variety of flavors for you to choose from, such as:
Milk Chocolate
Strawberry
Vanilla
While I have never actually tried the milk chocolate flavor, I have tried the other two and they taste great! Besides choosing the taste you can also purchase this product in different sizes according to your needs, with the biggest size offering the best value. Phase8 starts at 907 grams and goes up to 4.5 kilos which contain more than 100 servings!
In terms of mixability this protein does quite well, although it isn't the best I have seen; I suggest you use a blender whenever possible as sometimes it tends to lump up when you use only a spoon.  The flavor seems to also be more enhanced when you use milk as the chosen mixer, which also gives you the added nutritional benefits of said milk, so go with that whenever possible.
If you are looking to buy a protein powder definitely give this one a go.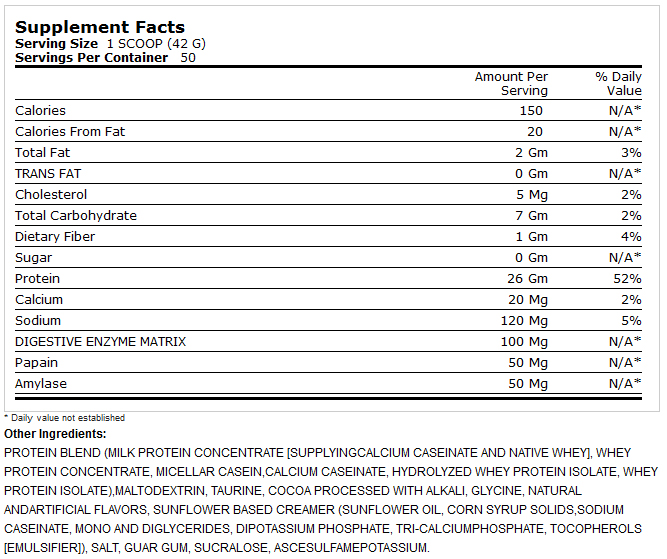 Taste
Not surprisingly, Phase 8 tastes amazing. The question you should ask yourself as far as taste goes is, "why does it taste good?" Sometimes the reasons for the way it tastes are not good. Sodium is one of the biggest factors in making a protein powder taste really good, but sodium is terrible for you.
Some companies will put a lot of sodium in the product to make it taste good, and Phase 8 is an example of one of those products.  Though 120 milligrams is not the highest we've seen, it's definitely excessive. You have to decide for yourself whether its worth taking a less nutritious product because it tastes better than healthier options. Keep in mind, there are a few very nutritious products out there that still taste great. If you really value taste and are not as worried about the sodium count, I would highly recommend this product.
Effectiveness
Our team has tested tons of  protein powders and found this one to be one of the most effective. We don't take products for an extended period of time unless they are consistently producing the desired results, and Phase 8 was certainly delivering results.
We have also read several other reviews on the product without being able to find any negative ones. The facts themselves should allow you to see how much potential this product really has. A product with nearly 5 grams of branched chain amino acids in every serving is likely going to be an effective product, considering how effective BCAAs can be in assisting muscle recovery and growth. They have also added glutamine due to its amazing ability to potentially speed up the recovery process and really maximize your results.
Summary
Overall, Phase 8 is in our opinion a fantastic product. Like I said before, it is better for some people than others. I would recommend this product to athletes or those in need of some extra carbs and calories.